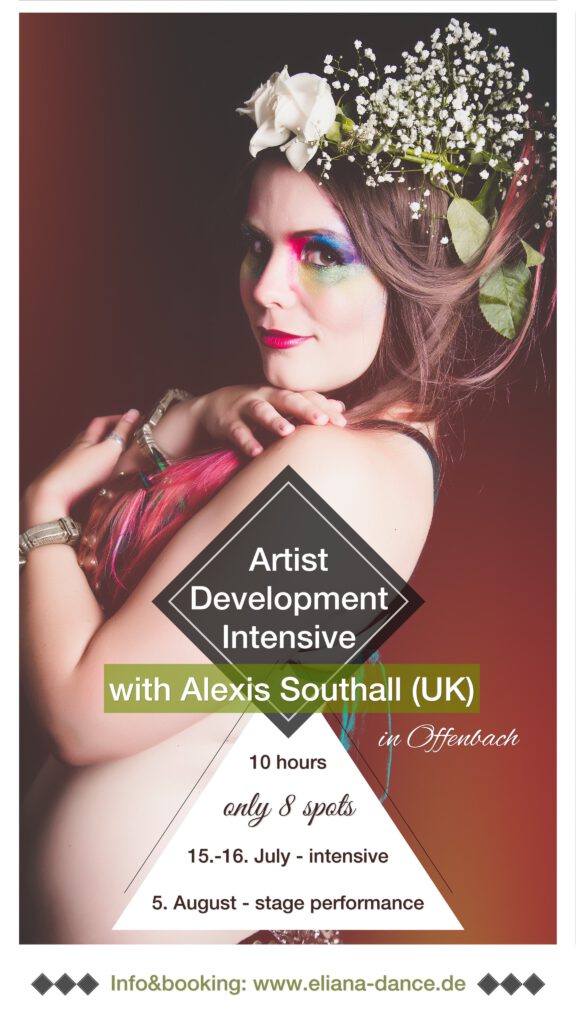 10 Hour Artist Development Intensive & Stage Performance with international star guest Alexis Southall Offenbach (UK)!
15.-16. July 2023 – Artist Development Intensive in Offenbach a.M.
5.August – 2 h rehearsal & stage performance in the show 
Teaching language: English (Eliana kann gerne bei Bedarf ins DE übersetzen.)
Intensive schedule: s. below
Come with Alexis on a journey of artistic discovery!
Through a total of 10 hours of guided instruction, participants will learn to hone their skills as dancers through the creation of a group choreography to be performed at Eliana's Studio Show on 05.08.2023.
During our time together you will
develop your technical expertise as a fusion dancer,
improve your timing and musicality,
and discover ways to express yourself through your body in a way that feels authentic to you.
You will learn how to move cohesively in a group performance, develop your spatial awareness and how to relate to other dancers in the group to create a magical experience for the audience, and speed up your ability to learn choreography!
♥️ Most important of all, you will create connections and community with other dancers, and we will have lots of fun!
Alexis has a decade of experience in directing groups for performance, and in 2021 produced her own fully choreographed show, 'Juniper Ascending' with 21 dancers. Alongside this, she has been coaching dancers in their own artistic development since 2015, and it is her intention that through this project you will develop skills that will help you through the entirety of your time as a performer.
Participation in the project will be limited to 8 dancers to allow a focused and personalized experience.
In order to participate in the project, you must complete an application form detailing what you hope to achieve through joining the project, including a video of yourself dancing (this can be a recording of a performance or a practice video).
You will also be required to learn a short combination in Alexis' style to demonstrate your commitment to learn and to ensure we bring together a cohesive group for this opportunity.
All applicants will receive feedback from Alexis on their submissions, regardless of whether they are selected to participate in the project or not, so every step of the process is an opportunity to learn and grow as dancers.
You will be expected to invest in costuming for this project, though we will keep costuming expenses to a minimum and try to utilize what you already have as much as we can.
⭐️ 10 Hours Intensive Schedule:
Day 1: Saturday, 15.July
14.00 – 18.00 – Artist Development Intensive Day 1
Day 2: Sunday, 16.July
10.00 – 14.00 – Artist Development Intensive Day 2
Day 3: Saturday, 5. August – Artist Development Intensive Day 3
12.00 – 14.00 – Group training, coaching, dress rehearsal
SHOWTIME! In the evening: performance in the Eliana's Studio Show "Summer Delight!"
Show beginn: 19.00 h
3 Day Intensive price: 280 Euro
Registration: You can submit your application from February 6th.
Application form will be open on Monday, 6. February 2023. Stay tuned!
Location: "Locomotion" studio in Seligenstädter Strasse, 107, 63073 Offenbach a.M.
♥️ We are looking forward to working and dancing with YOU! ♥️
Please write us, if you have any questions. Bitte schreibe uns, wenn Du Fragen hast! info@eliana-dance.de / WhatsApp +4917621251831 (Eliana).
Much love,
Alexis (choreograph & artistic director) & Eliana (event host)